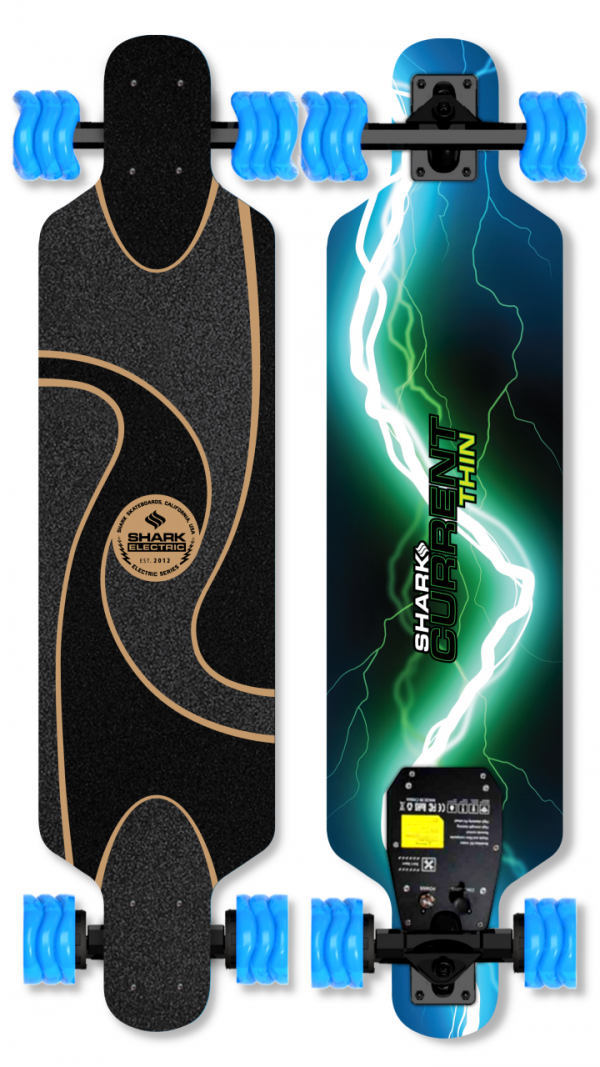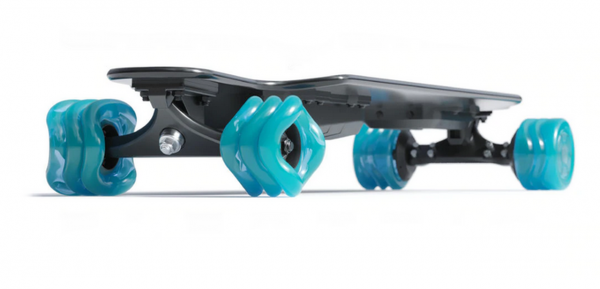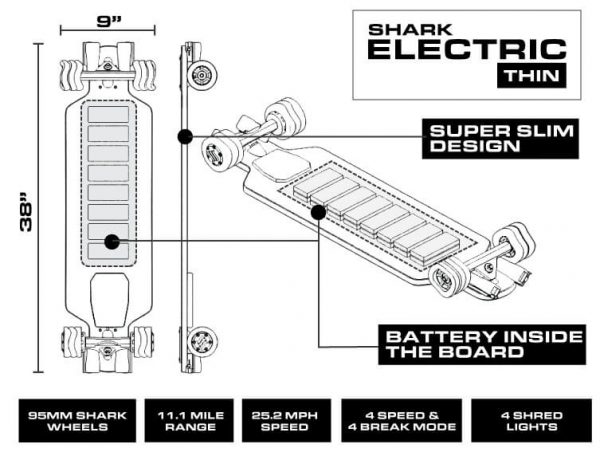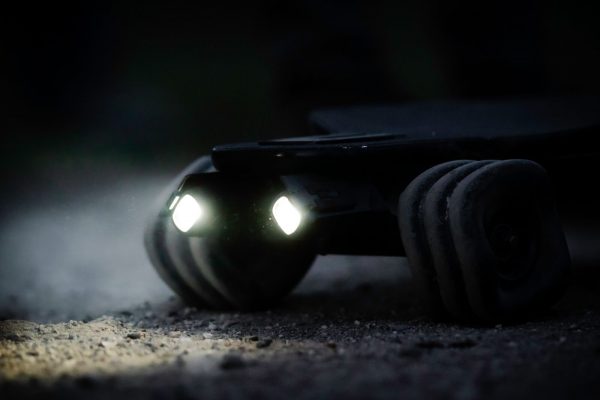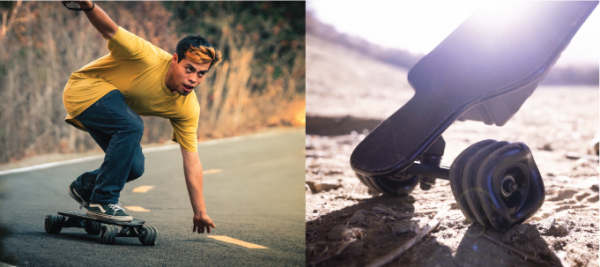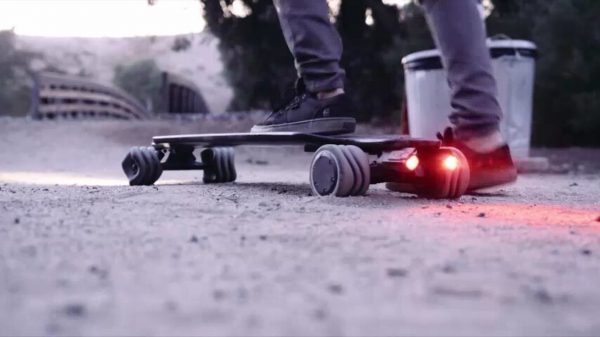 SHARK ELECTRIC THIN
€699.00 – €779.00
Description
Additional information
Reviews (2)
Description
SHARK ELECTRIC THIN
(Battery Inside Board)
Transparent Blue or Black Wheels
 €699(‎ €1,399 normally)
Although this listing is a 'pre-order', shipments for the Shark Electric boards have begun. We will work as fast as possible to get orders out quickly. New orders are expected to ship in January 2021.
Shark Wheel pours all wheels in California and assembles the boards at the Shark Wheel Offices
Specifications:
95mm Shark Wheels
25.2 mph speed Multiple users have reviewed the board on Youtube and elsewhere showing 30mph+ speed. Original tests were performed with lower grade urethane. Production wheels are the highest rebound polyurethane in the world and significantly increase the max speed.
Up to 11.1 mile range
38″ x 9″ deck (10 ply Canadian Maple and 1 ply Fiberglass)
Remote – 4 speeds
Waterproof (IP54)
Charging Time 2 hours
Uphill 25% grade
4 speed modes
4 brake modes
15 lbs
*** ShredLights available at a heavily discounted price ***
***No refunds on electric boards. For other details check the description below (FAQ)
FAQ
1. What is the battery AH capacity?
1 lithium battery
7.5 ah for the POWER
3.5 ah for the THIN
2. How flexible is the deck?
POWER:  7 ply Canadian Maple and 1 ply Fiberglass. The board definitely has a medium flex I would say. With the board having a low center of gravity and a battery underneath, we did not want the board to be too flexible. The max weight is 285lbs
THIN:  10 ply Canadian Maple and 1 ply Fiberglass
3. Do you ship anywhere in the world?
Please make sure your country accepts electric skateboards before ordering.
4. Motor/Battery Specs?
Brushless motor
30 cells (battery)
7.5 AH
540w
POWER Charge time 4hrs
THIN Charge time 2hrs
 5. What is the weight capacity for the boards?
POWER:  286lbs
THIN:  220lbs
6. What is the battery placement?
POWER:  underneath the board (Replacement batteries available, easy to change battery)
THIN:  inside the board (Replacement batteries available, easy to change battery – takes 10 minutes. Expected life is 500 charges)
7.  How many volts for the charger?
100-240 volts
8. How long does the battery last?
Estimated 500 charges
9. Wheel Colors?
Yes, transparent blue or black
10. Can I buy the 95mm wheels separately?
Yes. Here is the link
Black:                 
Transparent Blue:
11. Do the Shred Lights waste the battery power?

No. Shred Lights run on their own rechargeable batteries that do not affect the performance of the board. They last 150 hours before they need to be recharged. White lights in the front and red lights in the back. In some places (like California), it is a law to use lights on your board. Discounted cheaper here than anywhere else. You can add to your order when you click 'Pre-Order'
12. Can I jump curbs?
The THIN model is definitely not meant for jumping. This is due to the 220lbs weight limit. If you weigh 190lbs, for example, and jump off of a curb and land on the board, the weight limit will be exceeded and the board is prone to breaking. This is not covered under the warranty. Please think about your landing weight if you are jumping.
13. Can it go in reverse?
Yes
14. Does the board have regenerative braking?
Yes
15. Does the Shark Wheel lessen the shock when riding an electric skateboard?
Yes. The 30 degree approach angle of the Shark Wheel strikes all objects at an angle lessening the shock. Think of driving your car over a speed bump or a dip in the road. People inherently know to drive at an angle to reduce the shock. The angle also tends to kick small objects left and right out of the way smoothing the ride!
16. Nearly all electric boards are made in China. Where are Shark Electric boards made?
Shark Electric boards are made in China, but the secret sauce is the wheels. Shark Wheel opted to pay 5 times the cost to manufacture its wheels in California. Whereas 99% of electric skate companies buy run-of-the-mill cheap wheels with inferior polyurethane from China, Shark Wheel buys the best high-rebound polyurethane in the world. The  difference is so significant and worth the additional cost. The Shark Wheel geometery coupled with the specialized formula we use elevates our electric board performance toa new level.
17. Were you on Shark Tank?
Yes. It was quite an experience! Shark Wheel was also on the Discovery Channel for reinventing the wheel, FedEx commercials, FOX and much more
18. I know you say the wheel is great, but what about other people's reviews?

Shark Wheel has hundreds of 5-star verified purchase reviews on Amazon. Read social media, watch videos on YouTube. All of the evidence is there. Along with our scientific testing,
you should feel very confident you are ordering a world-class product.
19. Is the Shark Wheel really square?

Yes and no. Technically, the Shark Wheel is a 540 degree shape (circular wheels are 360 degrees) that is a hybrid of a cube, sphere and sine wave.
Look at the below picture of a singular Shark Wheel. It touches all 6 sides of a cube perfectly flat! And rolls perfectly smooth.
20. Can you post a picture of the remote?
21. Has it really been tested scientifically? If the Shark Wheel is so good why isn't it in other industries?
Yes, it has gone through 2 years of scientific testing at San Diego State University, Mechanical Engineering Department. Other tests were performed in labs. Significant advantages were found in friction (when in motion), longevity, rebound (which translates to speed), abrasion resistance, and off-road performance.
The Shark Wheel is used by multiple Fortune 500 companies in the pallet jack/forklift industry right now. Also, Shark Wheels can be found on Samsonite luggage, Harley Davidson luggage, SkyValet luggage and launching in 2020 for military luggage. Shark Wheels are also on farming equipment, medical equipment, casters and much more!
22. From where are the Electric Boards shipped?
All preorders will be shipped directly from the US.
23. Is the Shark Wheel really based on Nature? Where does the name 'Shark Wheel' come from?
The wheel mirrors Nature. Everything in Nature alternates. The way fish and sharks swim, the way radio waves move, the way planets move around the Sun and even how humans walk with an alternating gait. Alternating motions Nature's preferred form of motion.
The name Shark Wheel comes from the shape of actual shark jaws. They are a near perfect match:
24. Do you have a video that explains the technology?
Additional information
| | |
| --- | --- |
| Weight | 15 kg |
| Dimensions | 30 × 85 × 20 cm |
| Add shredlights for only €80 | None, Electric Shredlights (4x) |
| Choose Your Wheel Color: | 95mm Blue, 95mm Black |